New York Write to Pitch Conference 2022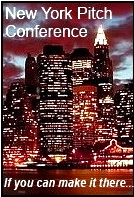 Inheriting the victory medals from its predecessor, the New York Write to Pitch Conference 2022 arguably becomes the most successful writer conference (if measured by careers and books launched) in the U.S. The event is held four times a year and features publishing house editors from major houses such as Penguin, Random House, St. Martins, Harper Collins, Tor and Del Rey, Kensington Books, and many more who are looking for new novels in a variety of genres, as well as narrative non-fiction. The event focuses on the art of the novel pitch as the best method not only for communicating your work, but for having you and your work taken seriously by industry professionals. Just as importantly, the pitch is also a diagnostic and developmental tool for workshopping the plot, premise, prose, and other crucial elements to determine quality and marketability. Therefore our motto:

From the Heart, but Smart.



UPCOMING EVENTS ON AUTHOR CONNECT